1. What is MS 1731:2004?
MS 1731:2004 is a Malaysian Standard for High-Visibility Warning Clothing developed by SIRIM Berhad. This Malaysian Standard specifies requirements for clothing capable of signalling the user's presence visually, intended to provide conspicuity of the user in hazardous situations under any light conditions by day and under illumination by vehicle headlights in the dark.
MS 1731:2004 specifies the following:
Design
Requirements for Background and Combined-Performance Retroreflective Materials
Photometric and Physical Performance Requirements for Retroreflective Materials
TestMethods
The High-visibility clothing is grouped into 3 classes related to risk assessment. Each class shall have the minimum areas of materials incorporated in the garment (refer photo below) .Garments shall comprise the required areas of background material or alternatively shall comprise the required area of combined performance material.

2. What's the Difference Between Class 1, 2, and 3 clothing?
Class 1 provides the minimum amount of high visibility materials required to differentiate the wearer visually from non-complex work environments, in scenarios in which the struck-by hazards will not be approaching at roadway speeds, therefore the operative detection and identification distances in the work environment can be shorter than in other situations without compromising safety.
Class 2 provides for the use of additional amount of high-visibility materials, which may allow design opportunities to define the human form more effectively. Class 2 have the potential to provide longer detection and identification distances, and increased conspicuity performance compared to Class 1.
*Note: Class 2 is considered a minimum practise for high visibility clothing in roadway and temporary traffic control zones (MUTCD). 
Class 3 can offer greater visibility to the wearer in both complex backgrounds and through a full range of body movements by mandatory placement of background, and combined performance materials on sleeves and pant legs. Class 3 offers the highest conspicuity performance.
3. Why do I need to wear MS 1731:2004 certified clothing?
If you are regularly expose to the hazards of low visibility or if you work in high traffic areas, you should wear MS1731:2004 certified clothing. By wearing the MS 1731:2004 certified clothing, you can rely on the quality and performance. Our clothing meets all the minimum required standards, so you can be assured that you are sufficiently protected from the risks and hazards.
4. Who should wear MS 1731:2004 certified clothing?
The required visibility at any workplace depends on the hazardous nature of the workplace. The table below are the differences of work conditions and examples of workers who needs to wear the high-visibility clothings accordingly.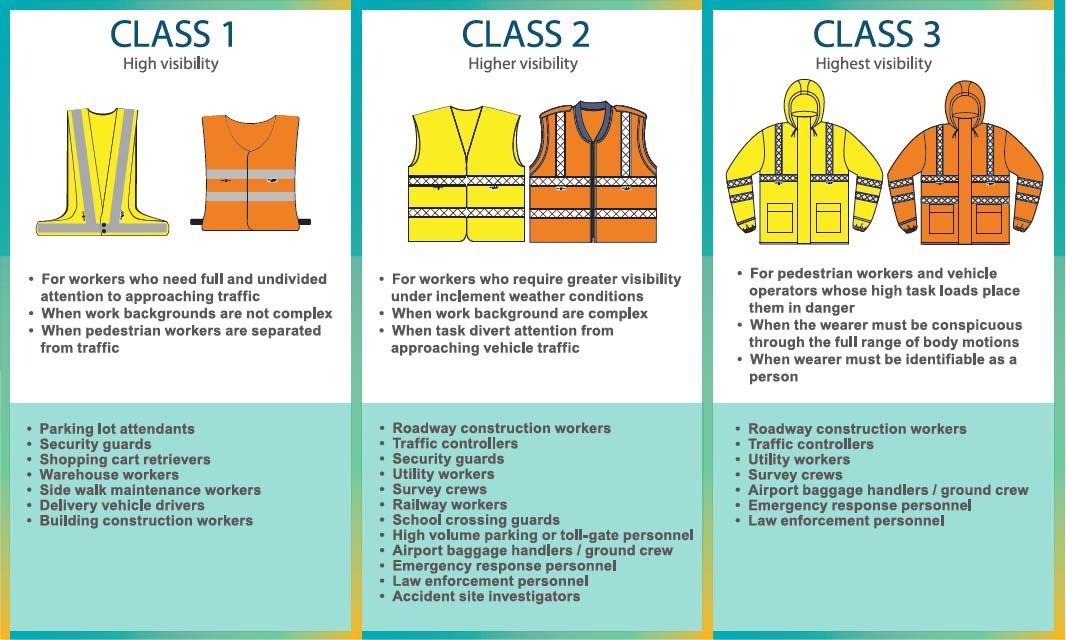 5. I don't want to wear yellow and orange vest, is there any other colours available?
Yes. MS 1731:2004 do specify clothing with Combined-Performance material. For example, you can wear black colour netting harness TVB with MAS605 Fluorescent Yellow reflective tape. The MAS605 Fluorescent Yellow reflective tape is certified combined-performance material comply with Class 1 requirement.
6. What are the types of retroreflective materials available?
The retroreflective materials in use are 2 types; glass beads and microprismatic. They reflect in two different ways. On our SIRIM certified clothings, the retroreflective materials are Reflexite® brand. Microprisms uses total internal reflection and return up to 80% of the incoming light. Glass bead with mirror (specular) reflection return about 35% of the incoming light.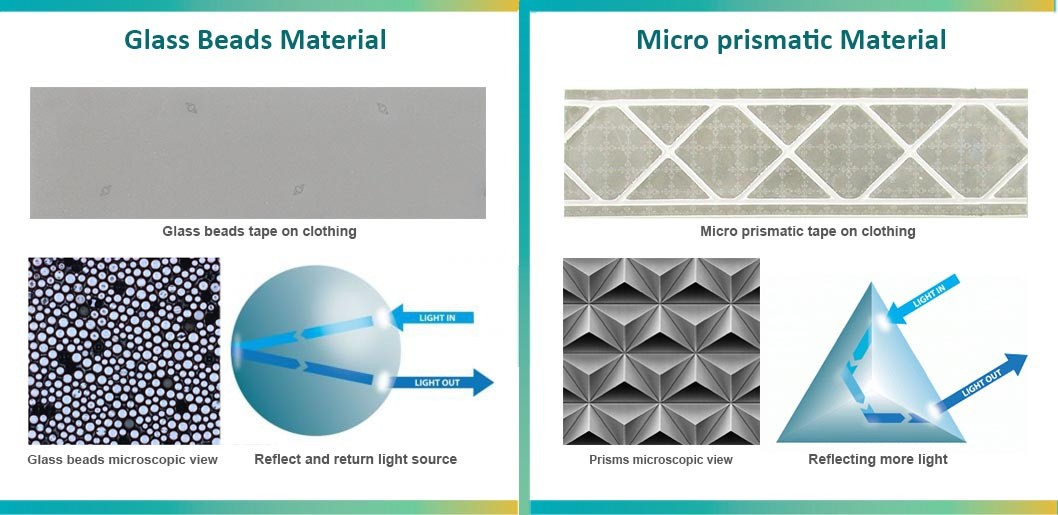 7. What is the fabric material used for our MS 1731:2004 SIRIM certified clothing?
For waistcoat or vest, the material used is 100% knitted polyester fabric. For T-shirts the material used is 100% knitted polyester with soft feel similar texture to cotton.
For our rainwears, the material used is PU coated Polyester fabric. These materials have gone through testing by SIRIM in compliance to MS 1731:2004 standard.
8. I don't like polyester, do you have other options?
For the time being, no. Polyester fabric is the best option for high-visibility safety clothings given the characteristics of lightweight, colour fastness and strength. Our range of fabrics are fully tested and certified by SIRIM in compliance to MS 1731:2004 standard.
9. Can I add logo patches onto my SIRIM high visibility clothings?
Yes, you can personalize your SIRIM certified clothings by adding microprismatic reflective logo, backpatch, nametag and other accessories. They would give a professional appearance, corporate look and company identity. However, the size of the logo patches must be taken into account, as the area of background material is necessary for safety and compliance. For example, if a logo is too large on smaller clothings, it may become non-compliant to SIRIM.
10. How can I be sure your products are MS 1731:2004 SIRIM-DOSH certified?
Each MS 1731:2004 SIRIM-DOSH certified high visibility warning clothing carries the MS 1731:2004 SIRIM-DOSH specific marking (Clause 9.2). So you should look for this label that include the
Name, Trade mark or Identification of the manufacturer
Designation of the product type
Size designation
Number of this specific Malaysian Standard (MS1731:2004)
Pictogram and level of performance
SIRIM-DOSH hologram /QR Code label
Our products brands are Sinarlite™ and Saflite™. Our clothings are extensively tested and regularly audited by SIRIM. We are committed to produce consistent quality clothings.
11. Can you provide me copy of the SIRIM MS 1731:2004 certificate?
We would be happy to provide you with a copy of the certificate together with your purchase of any of our MS 1731:2004 clothings.
12. I only have a soft copy certificate, can I have a hard copy instead?
SIRIM Berhad have implemented e-Certificate to provide convenience and flexibility. You may print out yourself the soft copy that we provided.
13. Where can I check my clothing whether it is a certified clothing or not?
You should be able to see the SIRIM-DOSH logo on the label of the clothing itself. Or you can scan the QR code embedded on the e-Certificate. To be sure, you can check online on www.malaysiancertified.com.my to look for the manufacturer's name and also you may refer to Approved List – PPE- Body Protection on www.dosh.gov.my provided by the Department of Safety and Health.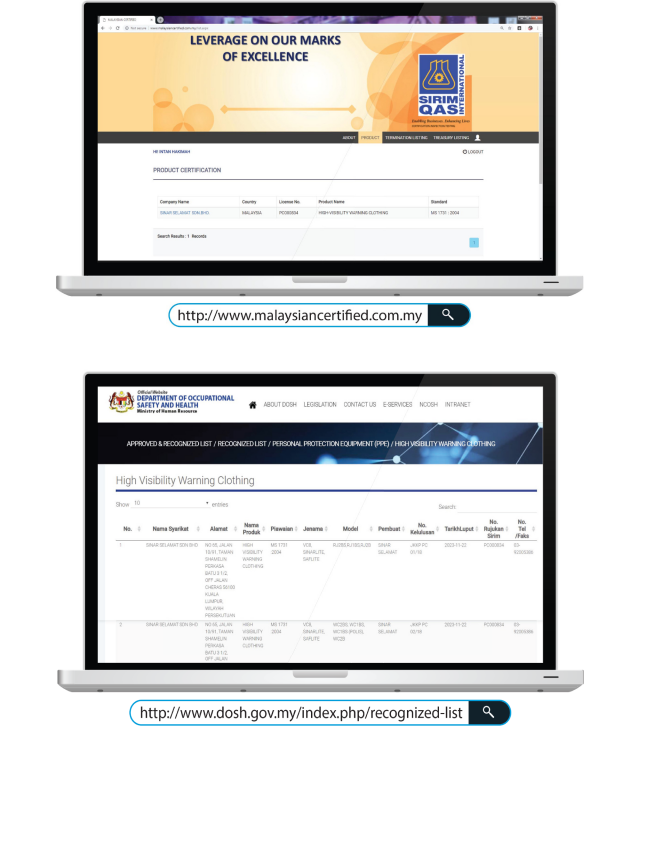 14. When will Department of Occupational Safety and Health (DOSH) regulates MS 1731:2004?
Our clothing recently was approved by DOSH in 2022.Our clothing is listed as one of the PPE-Body Protection should be worn in the workplaces. DOSH may enforce it's regulations in the near future, all workers/employers is not only protected from hazards, it also protects them from possible fines and further legal action.
15. What is the life span of Sinarlite™ and Saflite™ high-visibility clothing?
The average lifespan of high visibility clothing is considered to be 3 years. Our clothings are able to withstand abrasion, exposure from sunlight, different temperatures, regular washing and yet still able to perform its intended purpose. Our hard-wearing high visibility clothing meets all the minimum required standards, so you can be assured that you are sufficiently protected from the hazards of your jobs.
16. How often should I replace my high visibility clothing?
One should replace them immediately as soon as they show signs of wear and tear. The life of the SIRIM high visibility clothing can be extended by handling the garments with care.
17. How should I wash my high-visibility clothings?
Hand wash or Machine-wash your high visibility clothings with like colors in cold water only. Use the "delicates" cycle on your washing machine with a mild detergent. Don't wash jeans, work clothes or other rough fabrics (including those with hook-and-pile fasteners) when washing reflective or neon clothing. If scrubbing is needed, you should do lightly. Fabric softeners and bleach will harm the materials. Turning the garment inside out will lengthen the life of the retroreflective material. Best drying method is to line dry. Do not dry clean.
18. Why I shouldn't buy high-visibility safety clothings from hardware or DIY shops?
There are many types of high-visibility clothing on the market that does not conform to safety standards. They are of low quality and many carries fake EN ISO 20471 labels. You need to be aware that these counterfeit /fake clothing does not have any genuine certification. In Malaysia, we refer to standard certified by SIRIM-DOSH . You can buy from them, IF they do sell MS 1731:2004 and SIRIM-DOSH certified clothing.
Do you have more questions?
If you are interested in knowing more about MS 1731:2004 and do not see your question answered here, we encourage you to contact us. We will be happy to help you.